Date of interview: January 17, 2023
We conducted an interview with Ms. RAHMATIKA DEWI from the Graduate School of Humanities and Social Sciences.
She is an exchange student from Indonesia who entered the doctoral program of the Graduate School of Humanities and Social Sciences at Hiroshima University in October 2020 and has been selected as a Next-Generation Fellow.
For this interview, we asked her about her research, her daily life, and more. (The information provided was current at the time of the interview.)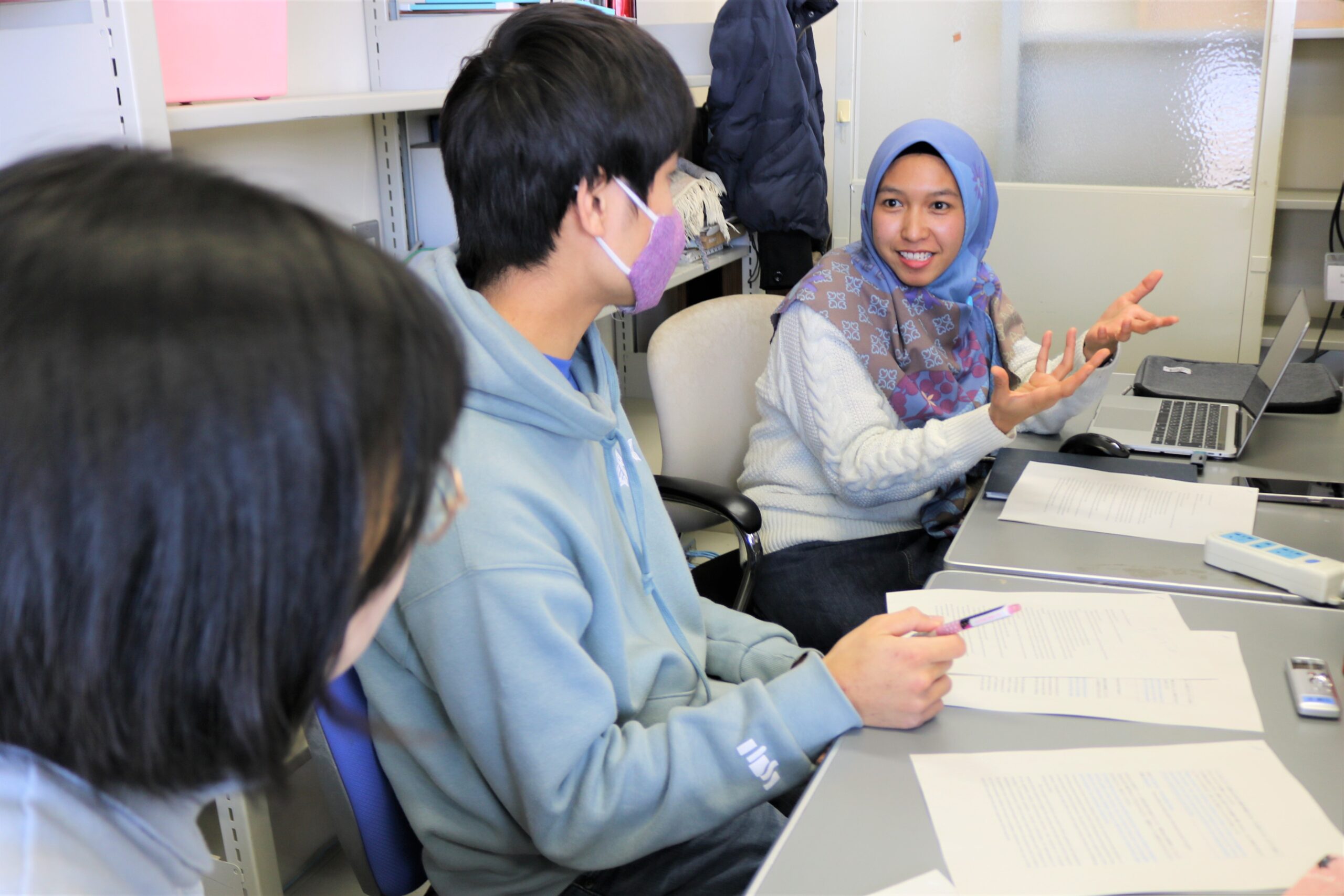 【About the research of the doctoral course】
■Please tell us about your research theme.
I am researching career decision-making (CDM) on the education-to-work transition of polytechnic graduate pandemials amidst the COVID-19 pandemic. Pandemials are those from Generation Z who are experiencing the COVID-19 pandemic. The goal of my study is to capture their CDM patterns. Ultimately, the study will draw out a new concept within their ways of thinking during CDM. The convergent mixed method was used, in which qualitative and quantitative methods were conducted at roughly the same time and the data results were integrated. On the qualitative side, semi-structured interviews were conducted with 70 people including 37 polytechnic graduates, a director of the polytechnic, ten representatives of departments in polytechnics, five staff from the Career Center Development, and 17 employers. On the quantitative side, an online questionnaire was shared with the graduates, 116 were completed. Furthermore, within the quantitative side, documents regarding the distribution of graduates for the year 2020 and/or 2021, which will be provided by the career centers, will also be analyzed.
■What are your research results to date?
So far, I have just finished analyzing nine graduates from my qualitative data and found their CDM patterns. In addition, tentatively, I have also found a new way of thinking within their CDM process in which they have a backcasting mindset for their work during the pandemic, as well as for their future work, which I have named "pandemials' backcasting mindset." It is the pandemials' way of thinking in which the future desired condition of their work is envisioned consciously or unconsciously, and steps (scenarios) are defined based on their experiences during COVID-19 to attain the desired goal. The desired goal in this case, "work sustainability", was coined as a result of the education-to-work transition shock experienced during COVID-19. It is the condition of engaging and/or remaining engaged in work even during a period of crisis. The tentative scenario to reach that "work sustainability" goal is achieved by utilizing the "digi-human skills nexus", which is the interaction between digital and human skills. In this study case, it consists of resiliency, adaptability, and possessing an entrepreneurial mindset.
■Please tell us why you chose this research theme.
The COVID-19 pandemic continues to affect many aspects of life, including employment. Previous studies have already found that COVID-19 increased unemployment rates, causing young individuals to become one of the groups that have had their employability impacted. This group is also considered to be the most at-risk, with pandemials becoming the double lost generation of the 21st century. This impact has been felt and continues to affect educational institutions all across the world. The latest studies have confirmed that during the COVID-19 pandemic, the majority of HEI students' concerns revolved around their future professional careers since employment has become more uncertain. The issue of unemployment is definitely closely related to the CDM process. When individuals fail to decide their career (i.e., indecision), they may end up being unemployed. Studies carried out during the COVID-19 pandemic have demonstrated that young people are facing specific problems and difficulties in their career planning and decision-making processes.
CDM itself is a process that entails identifying career alternatives, gathering information, weighing up the options, making a choice, and implementing a chosen alternative. However, it is a complex and multidimensional process, which author believes to depend on not only the free will of the decision-makers but also the context: social, economic, cultural, political and other environmental factors that influence career choices, including the state the COVID-19 pandemic. COVID-19 related modifications and countermeasures, such as restrictions on movement, may have originally made planning and, consequently, professional decision-making more difficult. Therefore, exploring CDM process patterns and pandemials' way of thinking in the CDM process within the context of COVID-19 can offer precise information that can serve as the foundation for services connected to education and career advice, thereby supporting young people throughout the planning process and CDM, particularly under pandemic situations.
■Is CDM a popular research field?
In general, CDM is researched within the field of psychology. However, I have adopted a sociological approach. Within the sociological field, this topic is not a very popular one. Although COVID-19 made this research field popular, this tendency has not changed. In psychology, researchers assume that CDM is a process that occurs solely internally without considering external factors. By contrast, within the sociological approach, we take government policy and industry conditions and others into consideration.
■What kind of research were you doing before the outbreak of COVID-19?
At first, I was researching the kind of skills that are needed for IT graduates. That is partly because the Indonesian government was strongly focusing on the digital economy, which increased the number of IT graduates. At that time, there was no agreement among teachers regarding the content that should be taught. We did not have a textbook to use for students. For this reason, I wanted to know what we needed to teach them.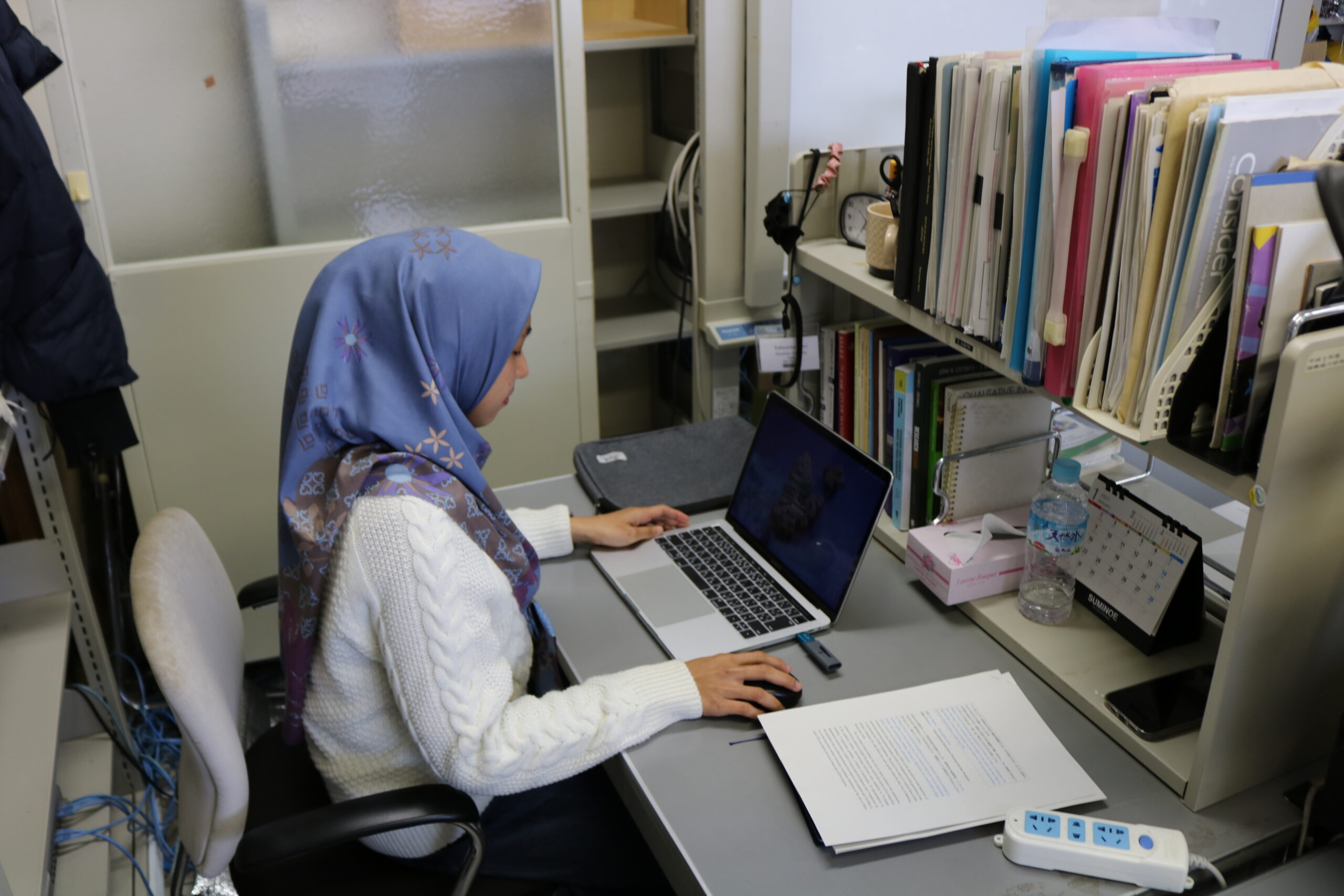 【About life in the doctoral program】
■What is your standard daily schedule?
I go to the laboratory from 8:30 am to 5:00 pm every day. I send my son to the kindergarten and also pick him up. Every Saturday, I also come to the university to study for exams, but on Sundays, I stay at home and sometimes go to the park with my family to play together.
■You had a baby while studying a master's degree. Was it challenging?
It was challenging. It was difficult to manage, but I tried my best for five years. Now it is getting less challenging because my son is able to go to kindergarten. He is four years old now, so I do not need to accompany him all the time, unlike before when he was still a baby. Of course, it is still very difficult for me to study, but before I almost never came to the laboratory. I studied only at home because if I went to the laboratory, I would need to bring him with me. It was difficult for me, but now it is getting easier.
■How do you balance study and family?
I need to be strict about my schedule. When I come to the university, I need to fully concentrate on my research because when I go home, I have to cook, wash the dishes, and do many other things. I do not have time to open my laptop anymore at home.
■Is the support enough?
The government's support is very helpful, including regarding free vaccinations and such things. The financial support I receive is enough for me because as I got the Next-Generation Fellowship, and my husband is working here. It is enough for us to raise our son.
■What do you think about raising a child in Japan?
The problem is the language he uses. My son likes to speak English, not Indonesian. He is also learning to speak Japanese at kindergarten. He does not really like to speak in Indonesian. Maybe this will be a big problem when we go back to Indonesia as few Indonesian teachers understand English and Japanese of course. I need to teach him more Indonesian. I talk to him in Indonesian, but he replies in English. He is not interested in Indonesian.
■How does your son learn English?
Sometimes he watches YouTube. There are also all kinds of people from different nationalities living in my apartment, and I talk to them in English, so he plays with them and learns English from them. That is maybe why he uses English much more than Indonesian or Japanese.
■Are there any opportunities to interact with other Indonesians?
Yes of course because we have three communities like student communities and mother communities, but there are not many children in the same age group as my son.
■How is the laboratory
The people here are nice. I am the oldest member, and sometimes I bring my son here. He plays with my friends and talks to them in English.
■Do you have any opportunities to interact with people from other fields of research?
Sometimes I have performance presentations with people from other fields. Also, I took a multidisciplinary subject in the doctoral course, where my classmates were from other fields
■Please tell us about your special skills.
I learned a new skill when I was working at my part-time job as a student fellow at NERPS in Hiroshima University, in which I was asked to make designs for posters, banners, and pamphlets, as well as create videos to promote NERPS. As a result, I think I attained a new skill for designing. I also managed to establish many networks there as I could interact with other research fellows from many different countries. I was able to gain a lot of knowledge and it was really good for me to grow.
■Do you use Japanese in your daily life?
This is my weak point and I need to improve my Japanese. I'm still learning Japanese from the professional Japanese teachers by joining the online class provided from the Next-Generation Fellowship. They are provided to the students and I use basic conversation skills to survive.
■What are the advantages and disadvantages of studying in Japan?
The education system is better than in my country, so the disadvantage is not in the academic field but in the family field. I do not have relatives here. I only live with my son and my husband, so if something happens, it is very difficult to handle. That is the only disadvantage. Maybe it will be an advantage if I live near my parents because I can get help from them, but from an academic viewpoint, I am enjoying studying here.
【About future career paths】
■Please tell us about the future career path you are pursuing.
If I have a chance, I would like to pursue a career as a researcher at a university. After completing my Ph.D., I plan to continue my career as a professor at a higher education institution or as a researcher. It can be in Indonesia or outside Indonesia. My research is really rewarding for me because I can use my research results as a recommendation for myself as a teacher because I can learn what I should teach students.
【Message for those who are considering studying at Hiroshima University】
■Do you have a message for those who are considering studying at Hiroshima University?
I came to Hiroshima University in March 2018 as a master's student and then continued as a doctoral student from October 2020. I decided on HU because I found that it has an international program for those who want to study in the educational field. In that program named IDEC (which is now known as IEDP), we used English in the teaching and learning process, which made it easier for me to conduct research since at that time I could not speak in Japanese at all. In addition, I was very attracted to HU because of its location. The environment and atmosphere really makes me feel comfortable studying. It is not crowded because it is situated in a small city, Saijo. I really love it. Also, I had many friends here and I could get information from them. In addition, IDEC is popular in Indonesia, especially among education majors.
【Editor's note】
"I found it interesting to know about the differences in the employment situation between Indonesia and Japan. I believe her research is helpful for many people. Thank you for telling us all kinds of stories." (KONDO Hinano, 4th year student, School of Integrated Arts and Sciences)
"The fact that she chose to study at Hiroshima University even though her major is for Indonesian students might mean that this university is worth coming to in order to conduct research. I hope her research on CDM will be an accelerator for the Indonesian Economy." (IWAHASHI Akira, 3rd year student, School of Law)